All-in-One Platform for Data

Collaboration

Discovery

Governance

Lineage

Observability

Quality
that Lets you Focus on Building
High quality, meaningful, and reliable data at everyone's fingertips to realize the full potential of your data.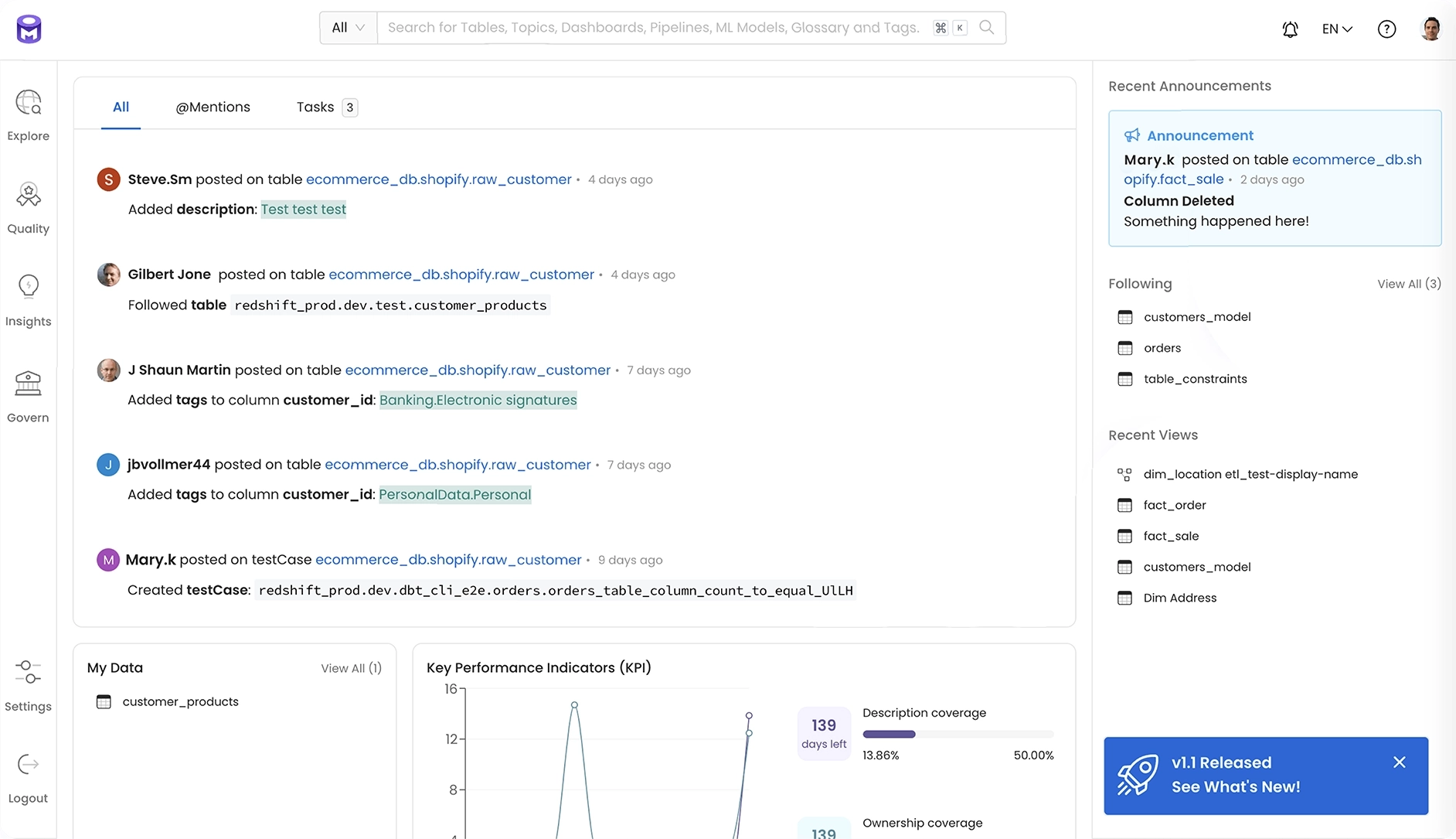 Organize Data for People & People for Data
Metadata is a treasure trove of information waiting to be exploited
A central metadata store for discovery, governance, quality, and observability.
Seamless collaboration for distributed teams without tool disconnect.
Powered by the open-source project OpenMetadata with no vendor lock-in.
Rich APIs for automation to improve productivity and achieve scale.

Get a Big Picture of your Data
As a business, you are dealing with the explosion of data stored across different systems.
Is your data organized for you to be successful?

Are your users getting what they are looking for in this data deluge?

Is your business fully leveraging your data assets?
A single source of truth that connects all your data to help users discover, understand, and maximize productivity with powerful search, lineage, and collaboration features.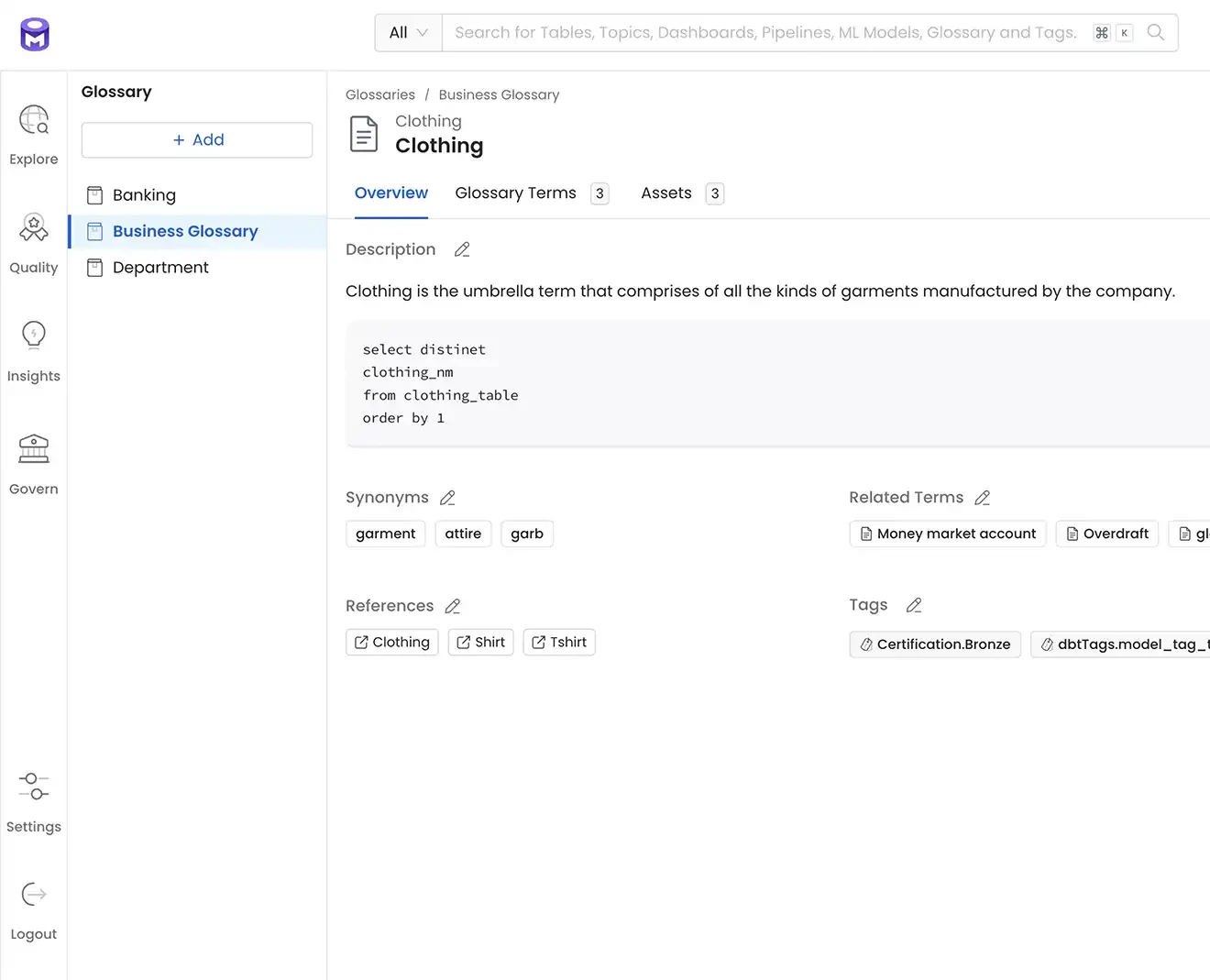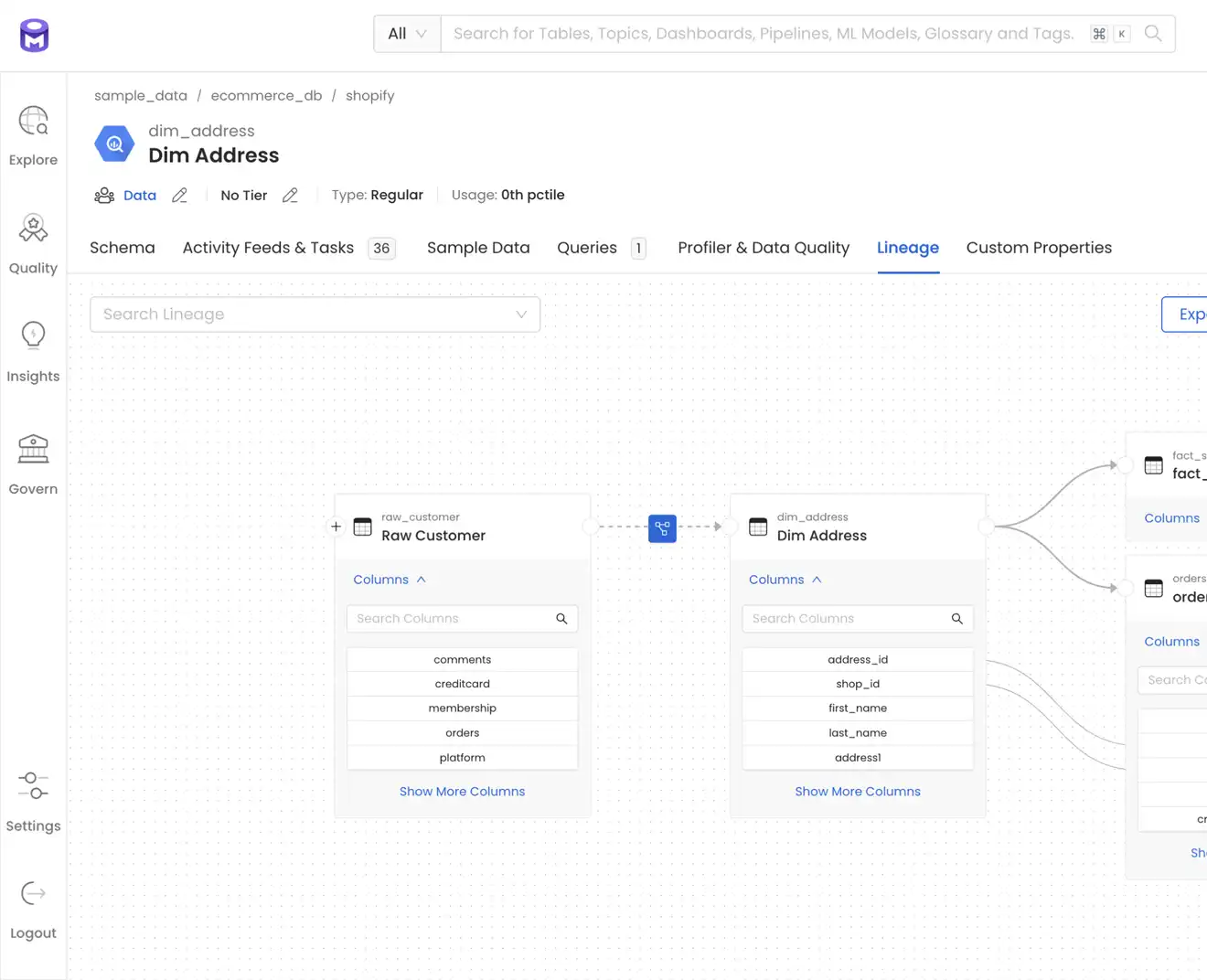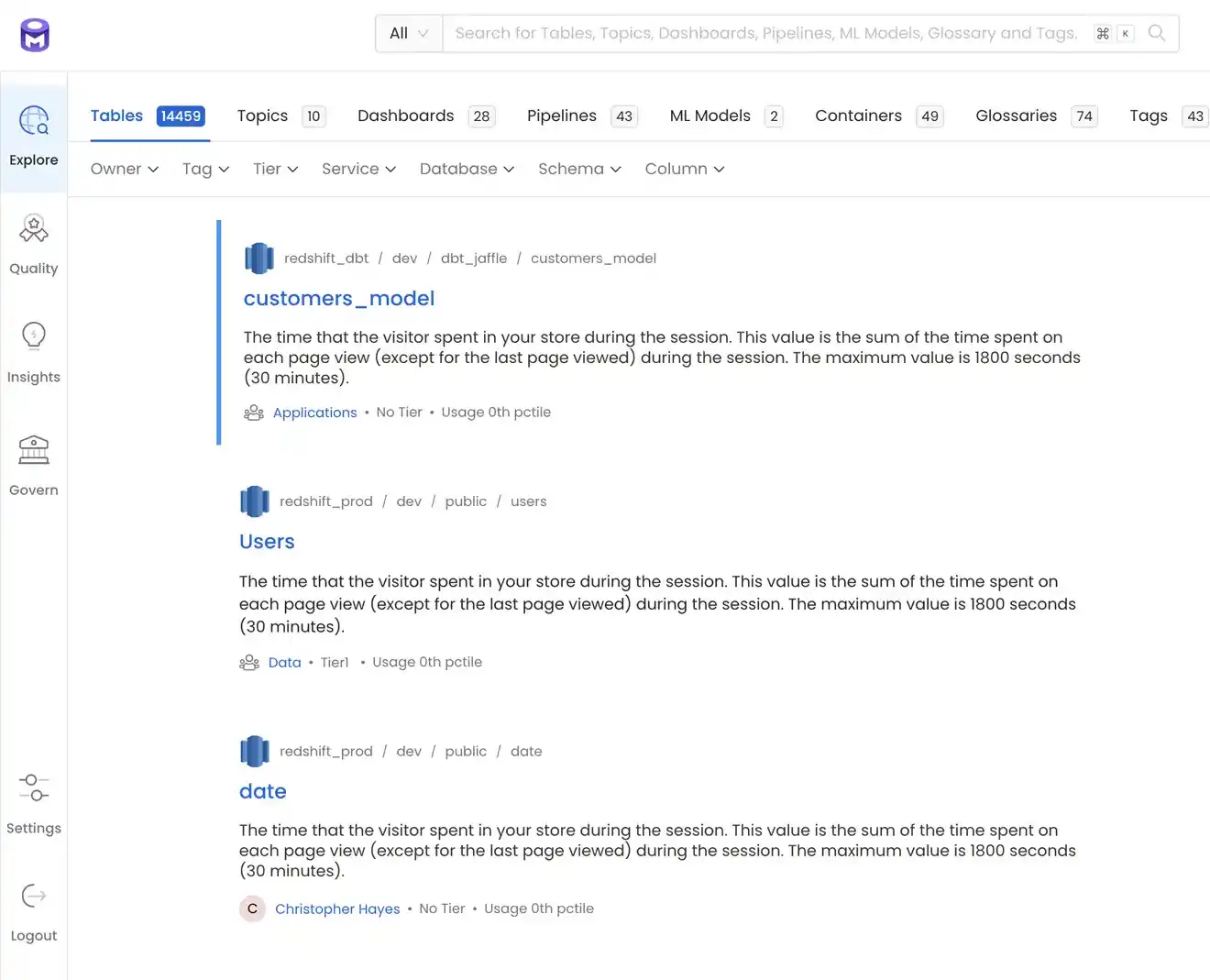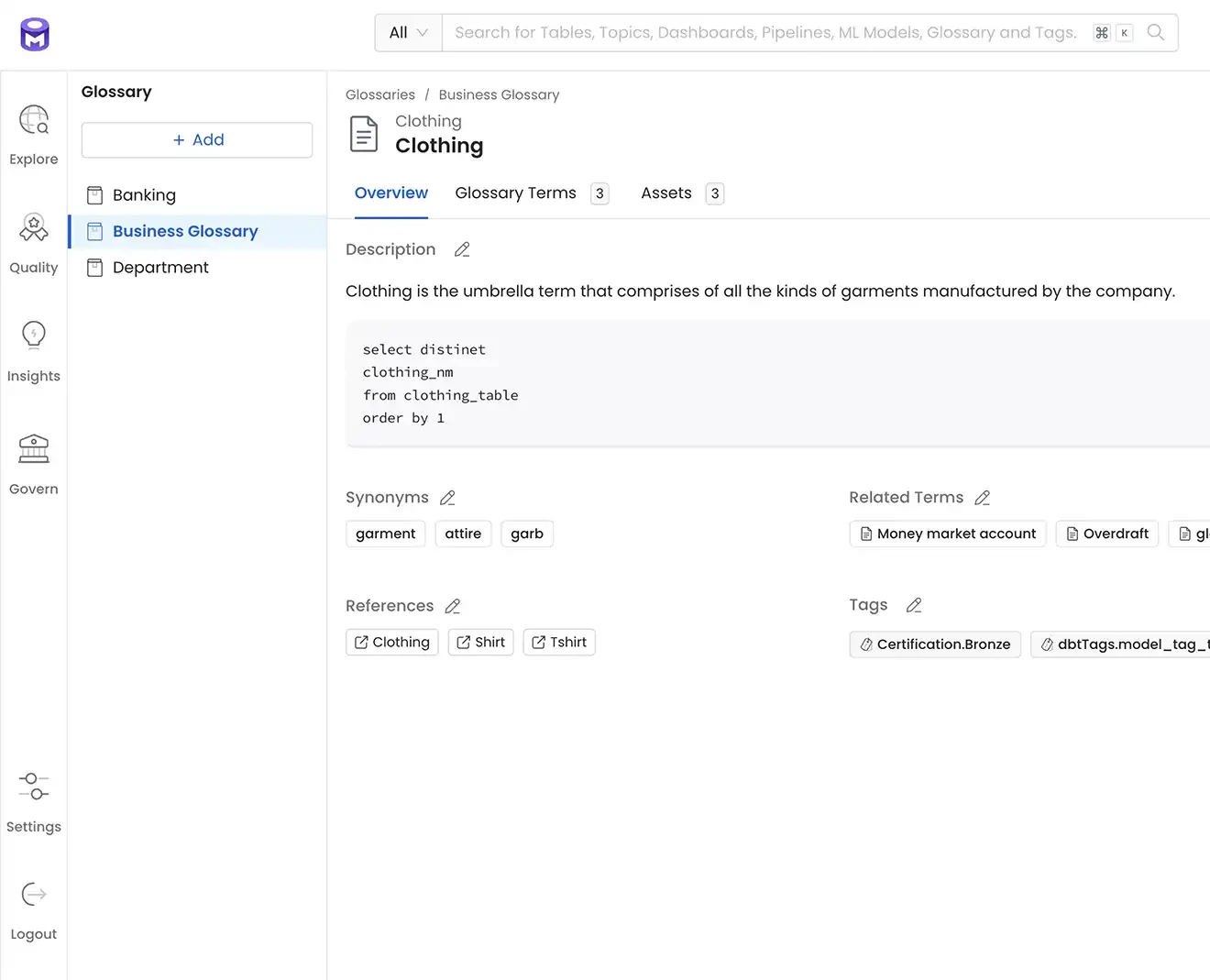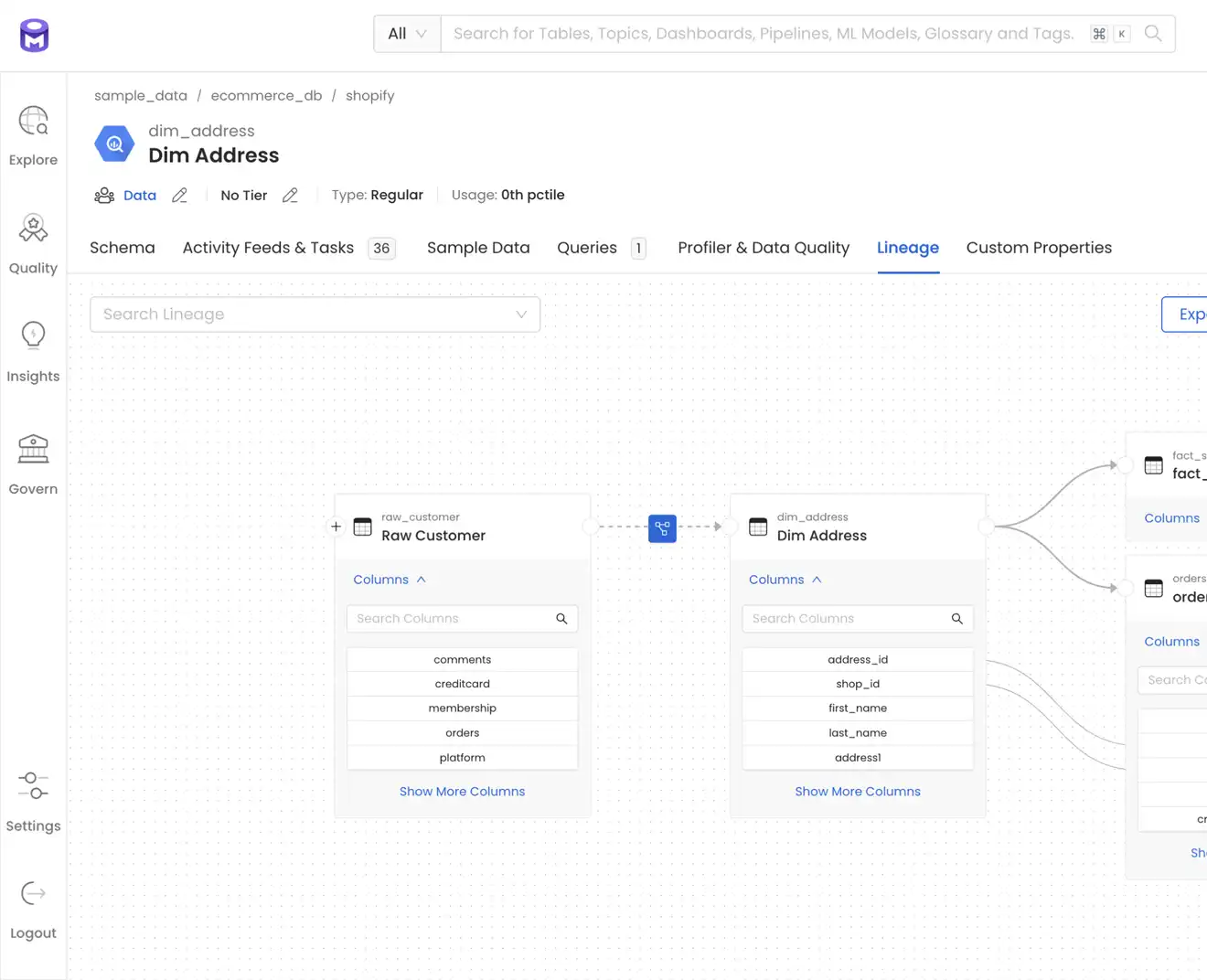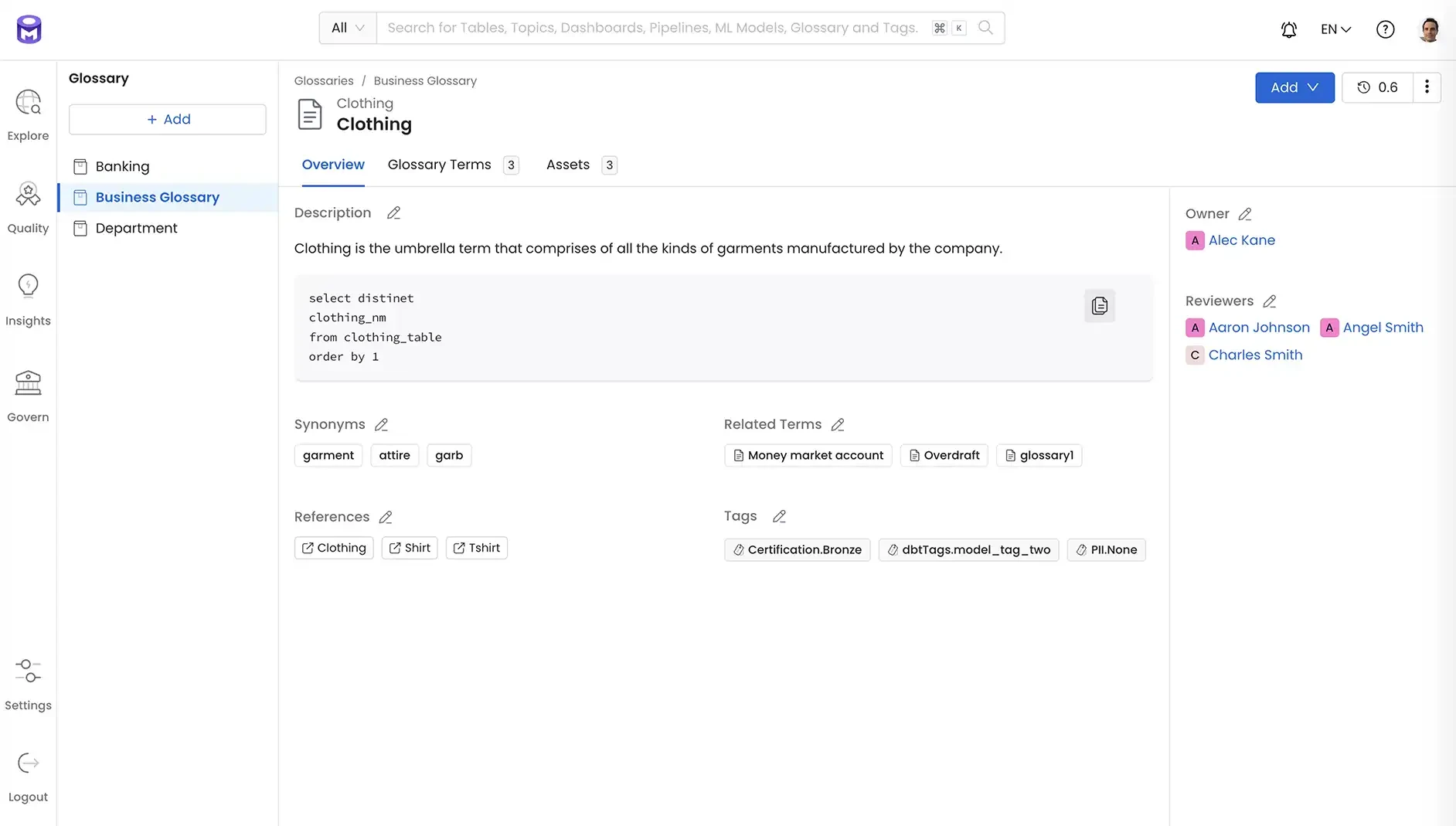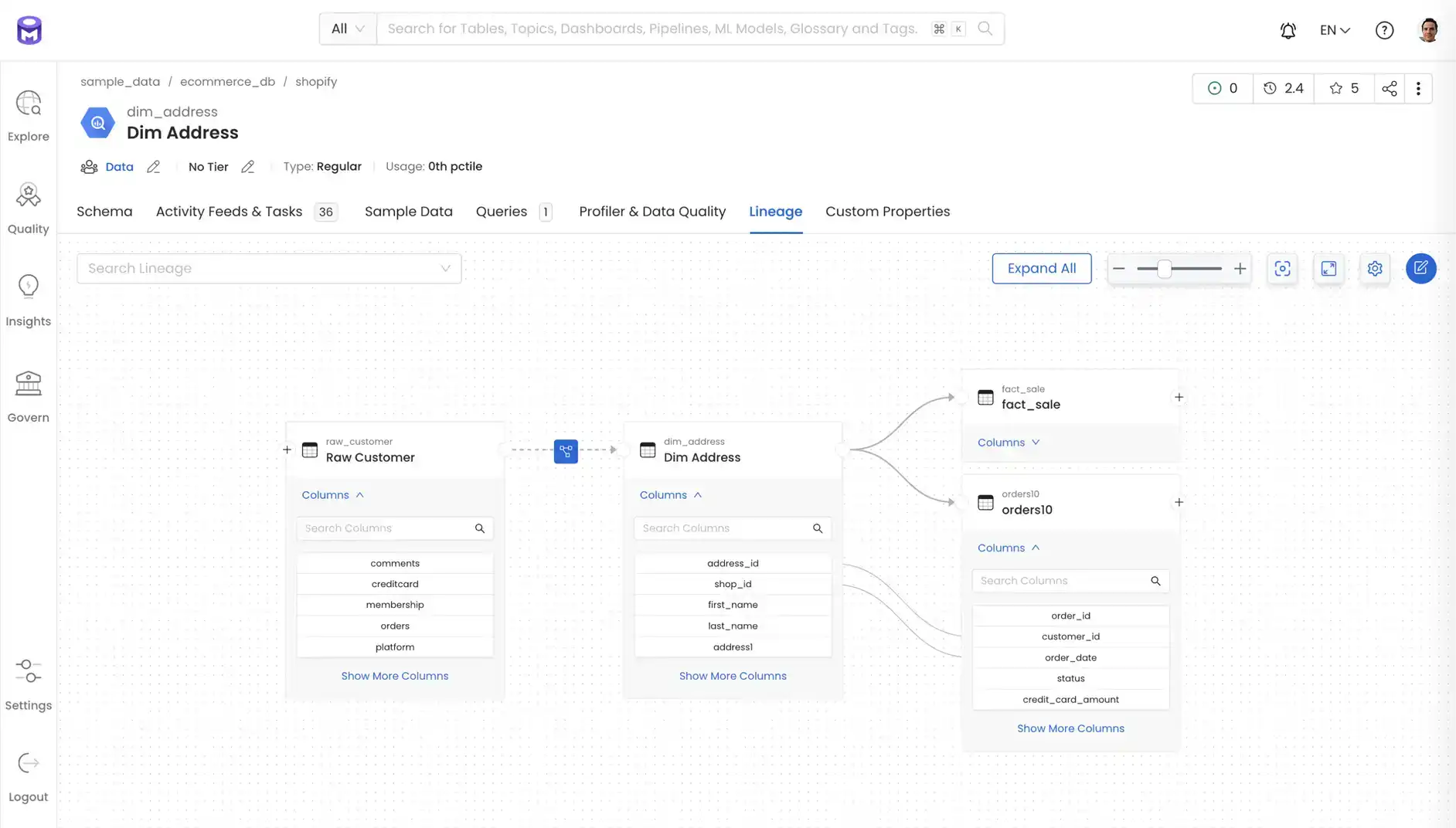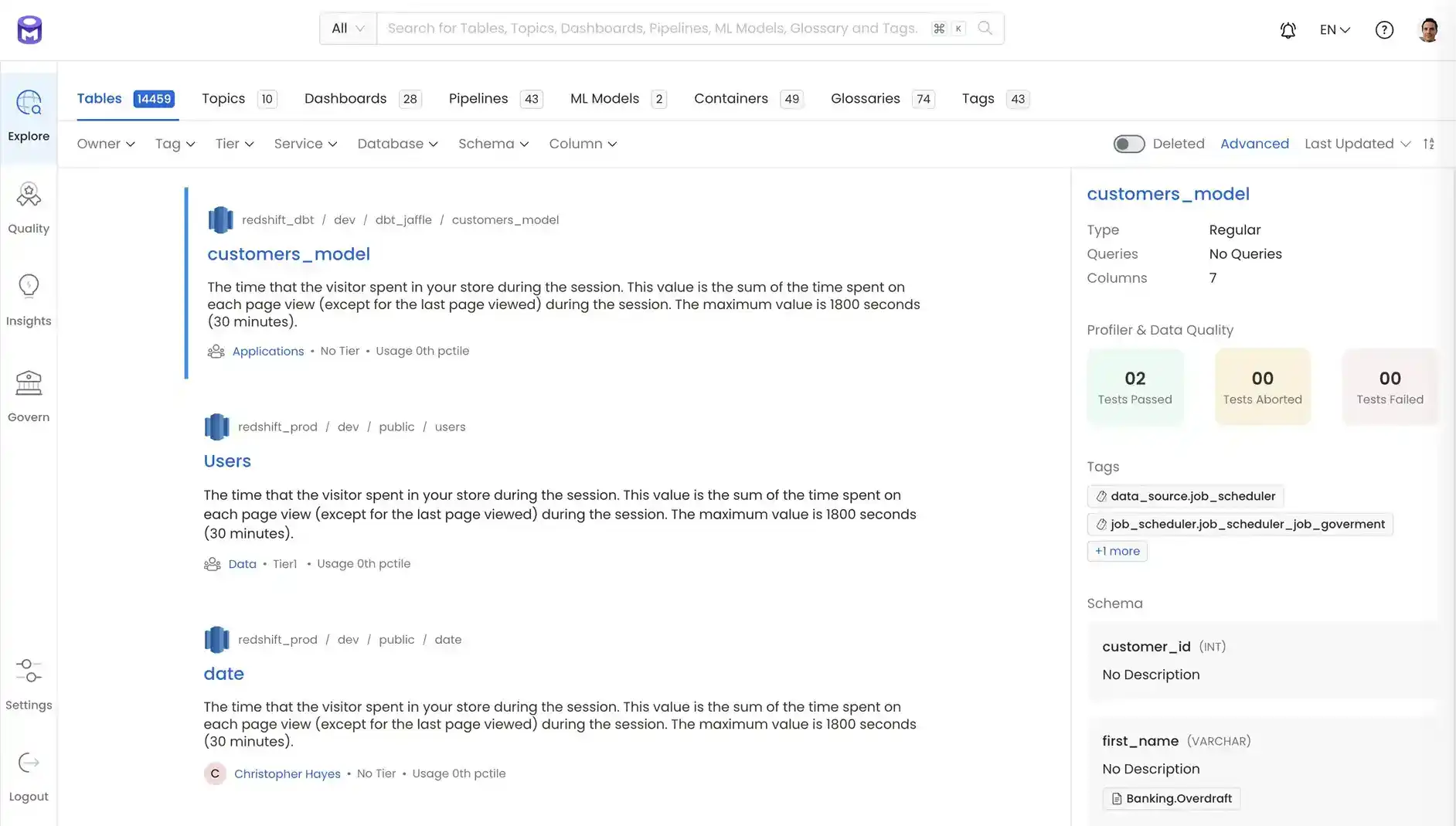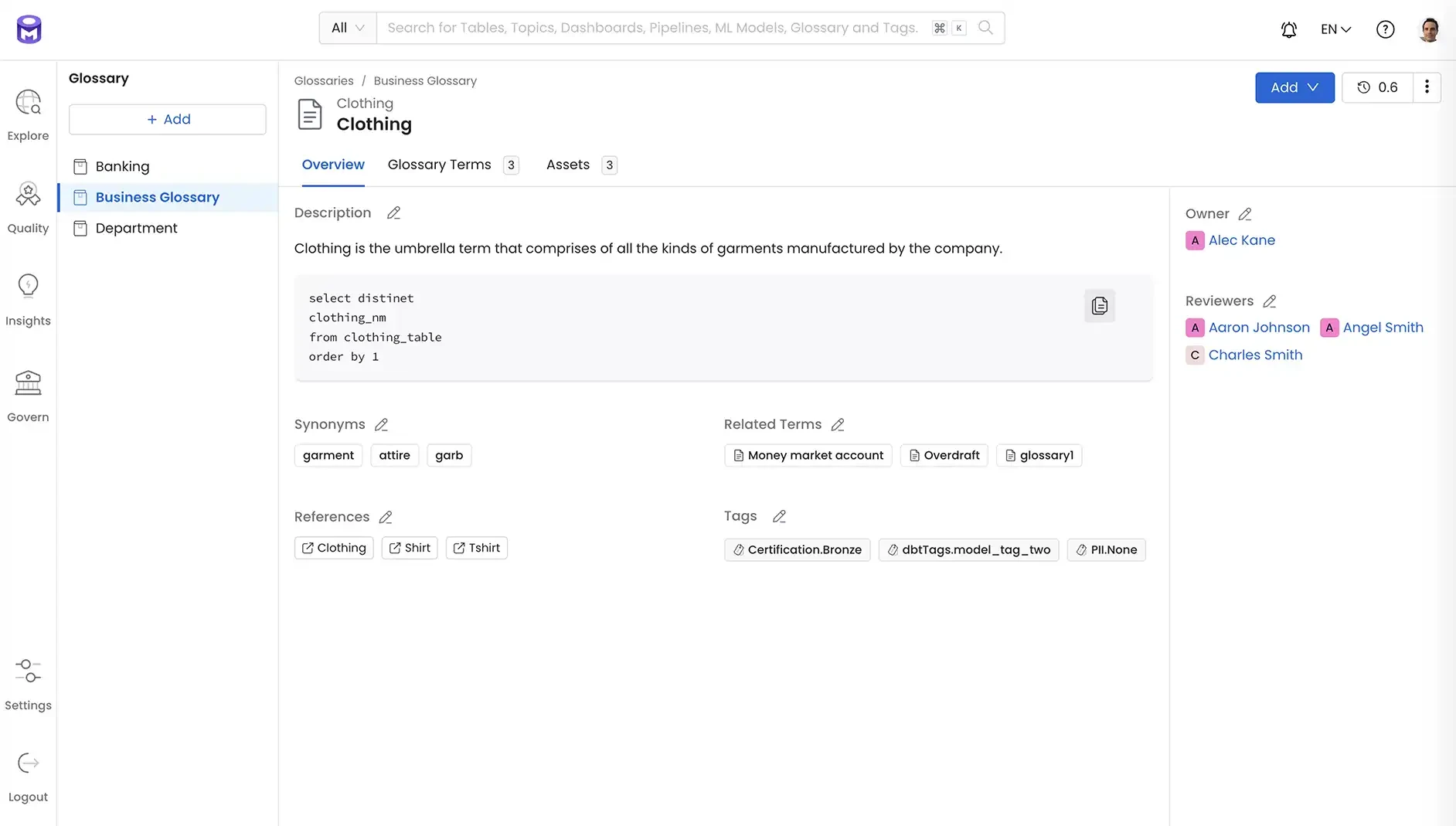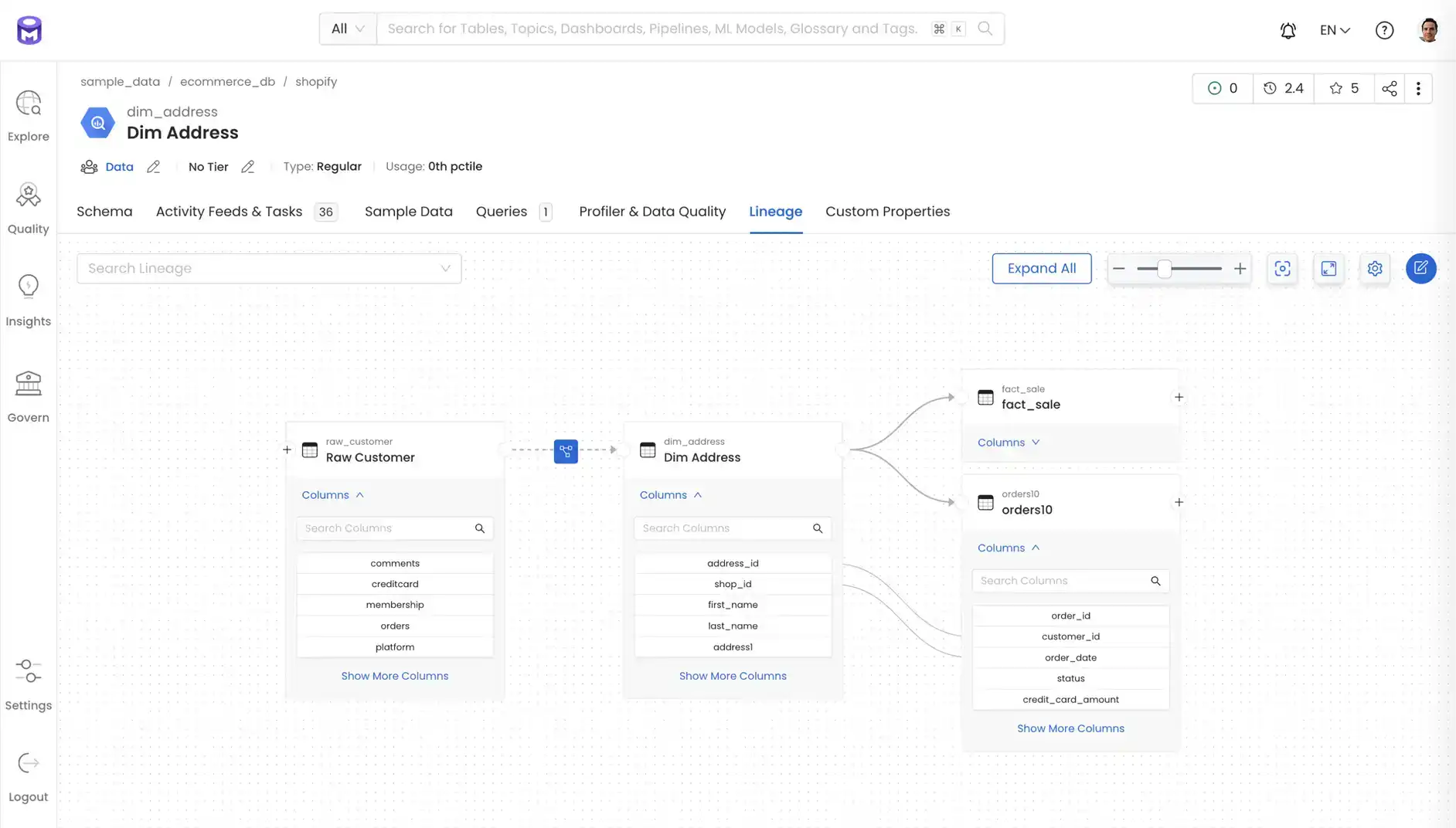 Data is an Asset only if you Get it Right
Unreliable, low quality data with no clear ownership is preventing organizations from being successful with data.
Are your teams providing different answers for the very same questions?

Are you spending more time solving data problems instead of creating value?

Has data issues eroded trust in your data?
A unified tool with Active Metadata, Lineage, Data Quality and Observability helps you make your data reliable. Get alerted when your data has issues. Use automation and collaboration to drive ownership and a better data culture.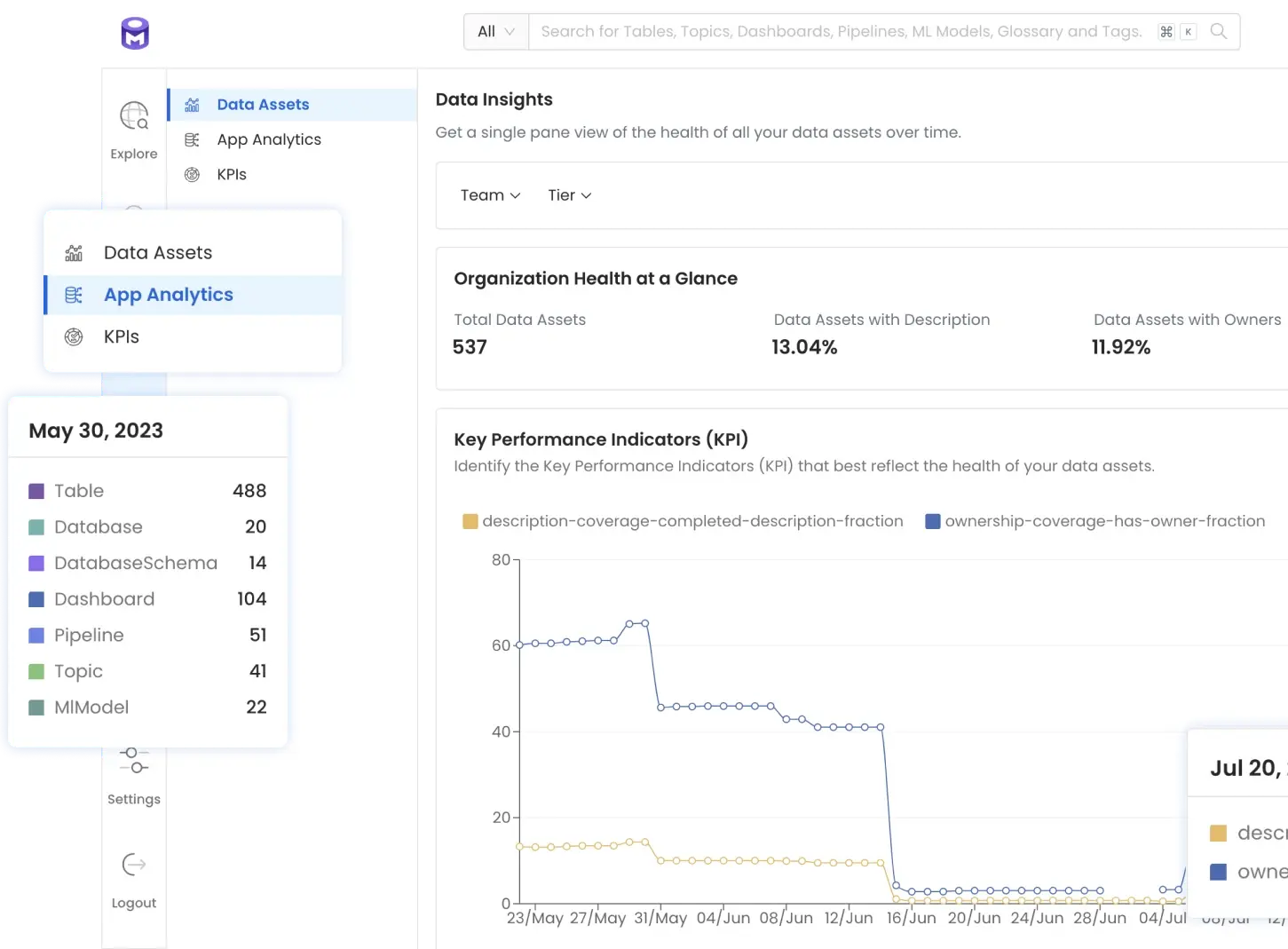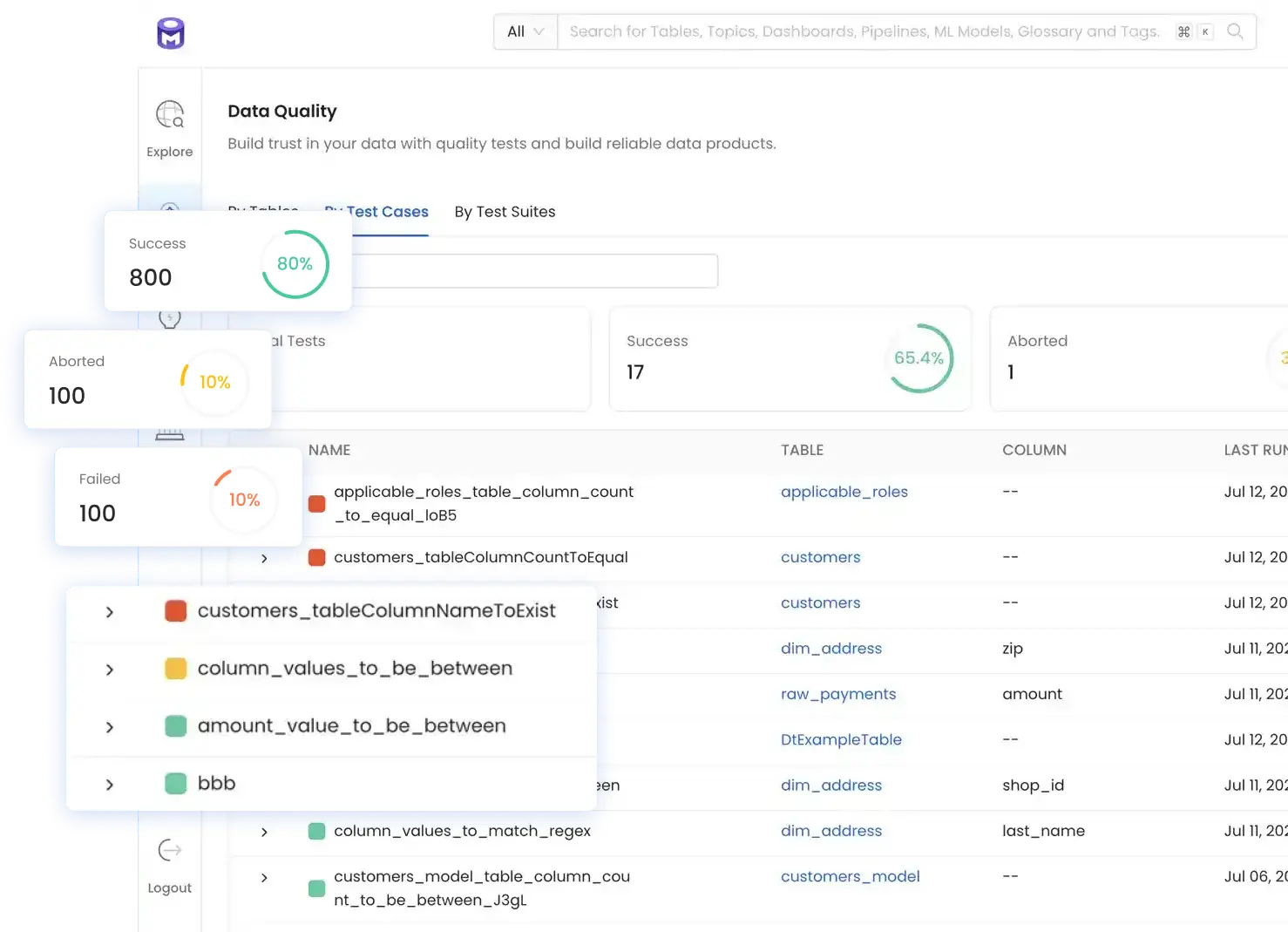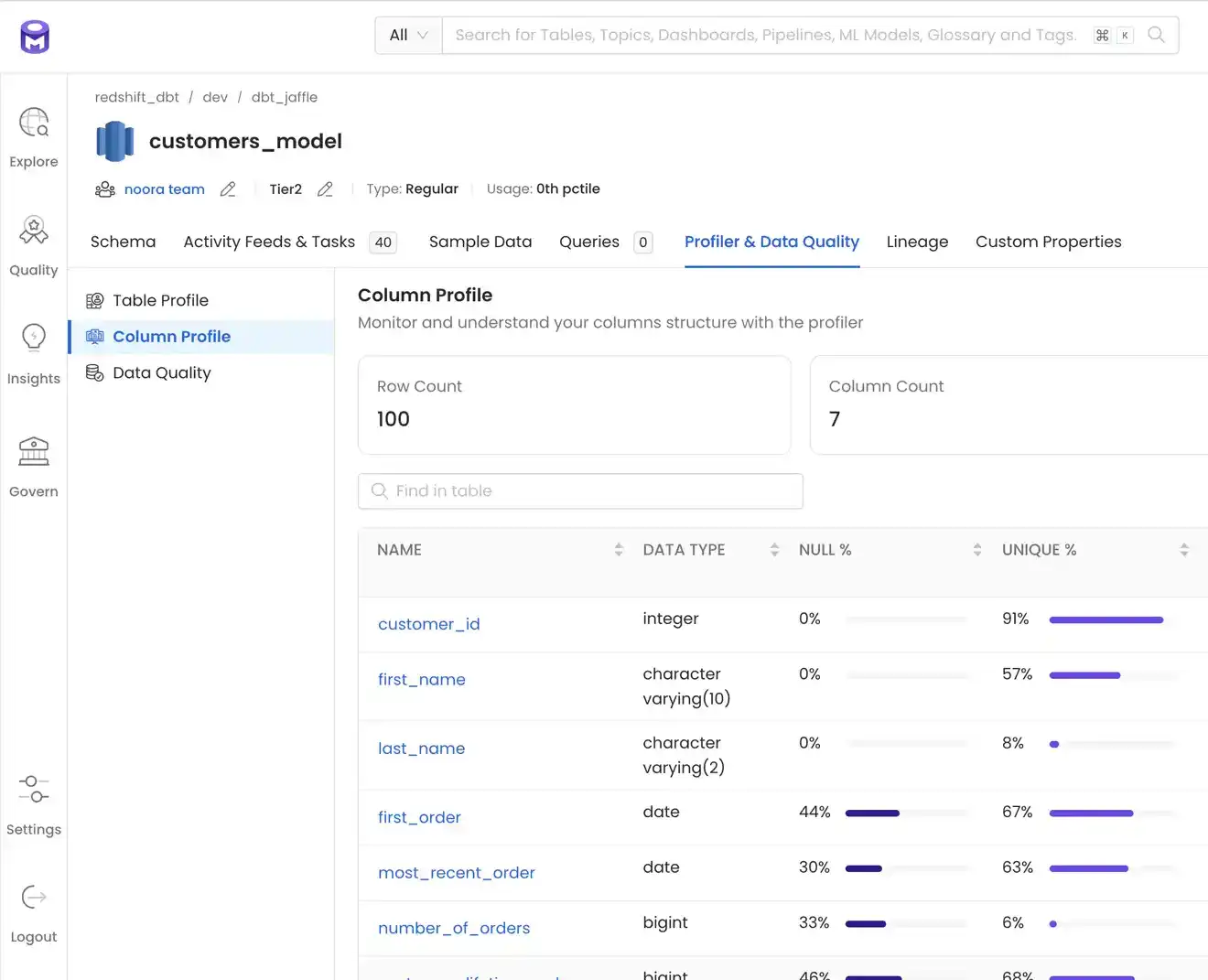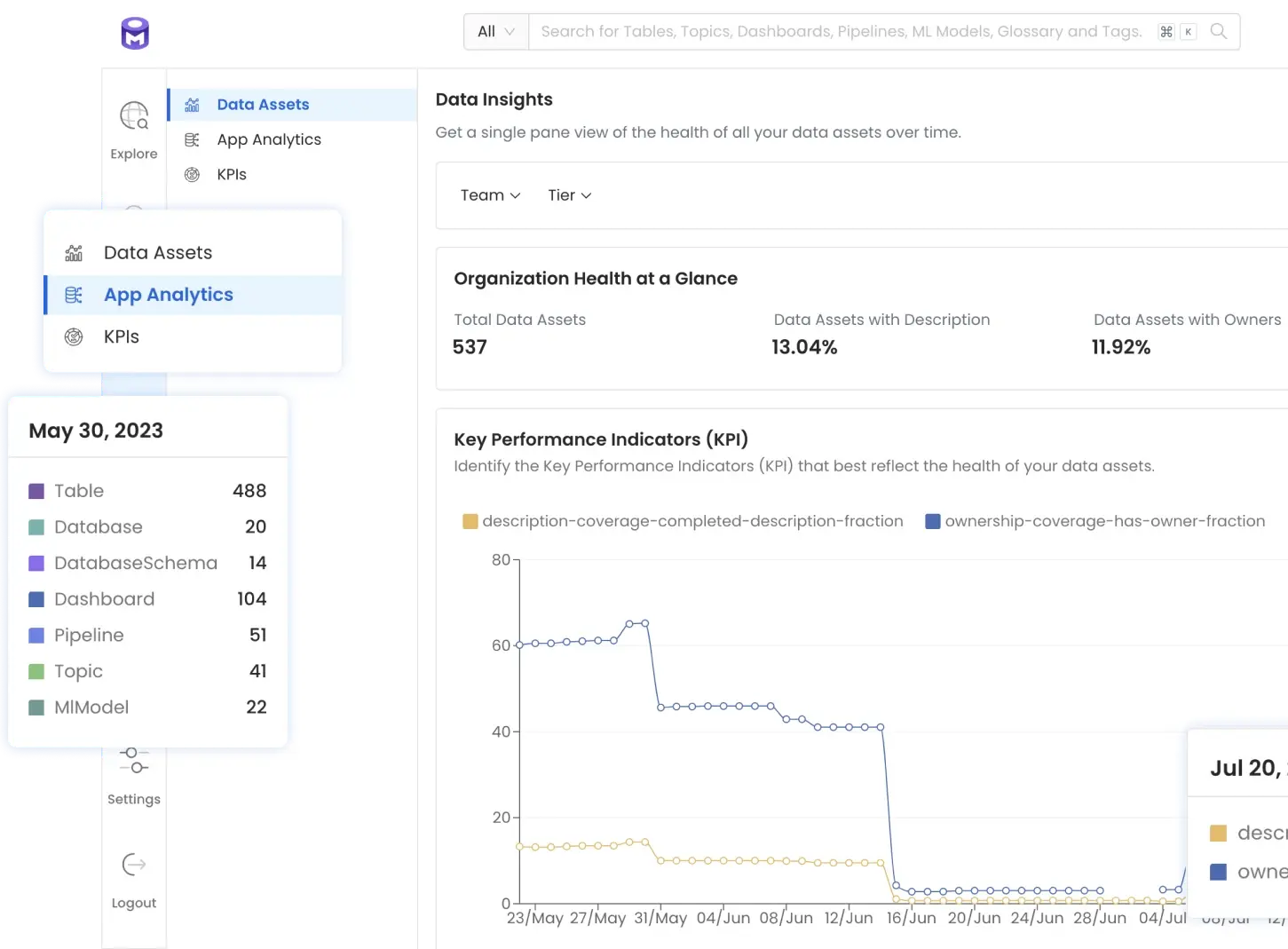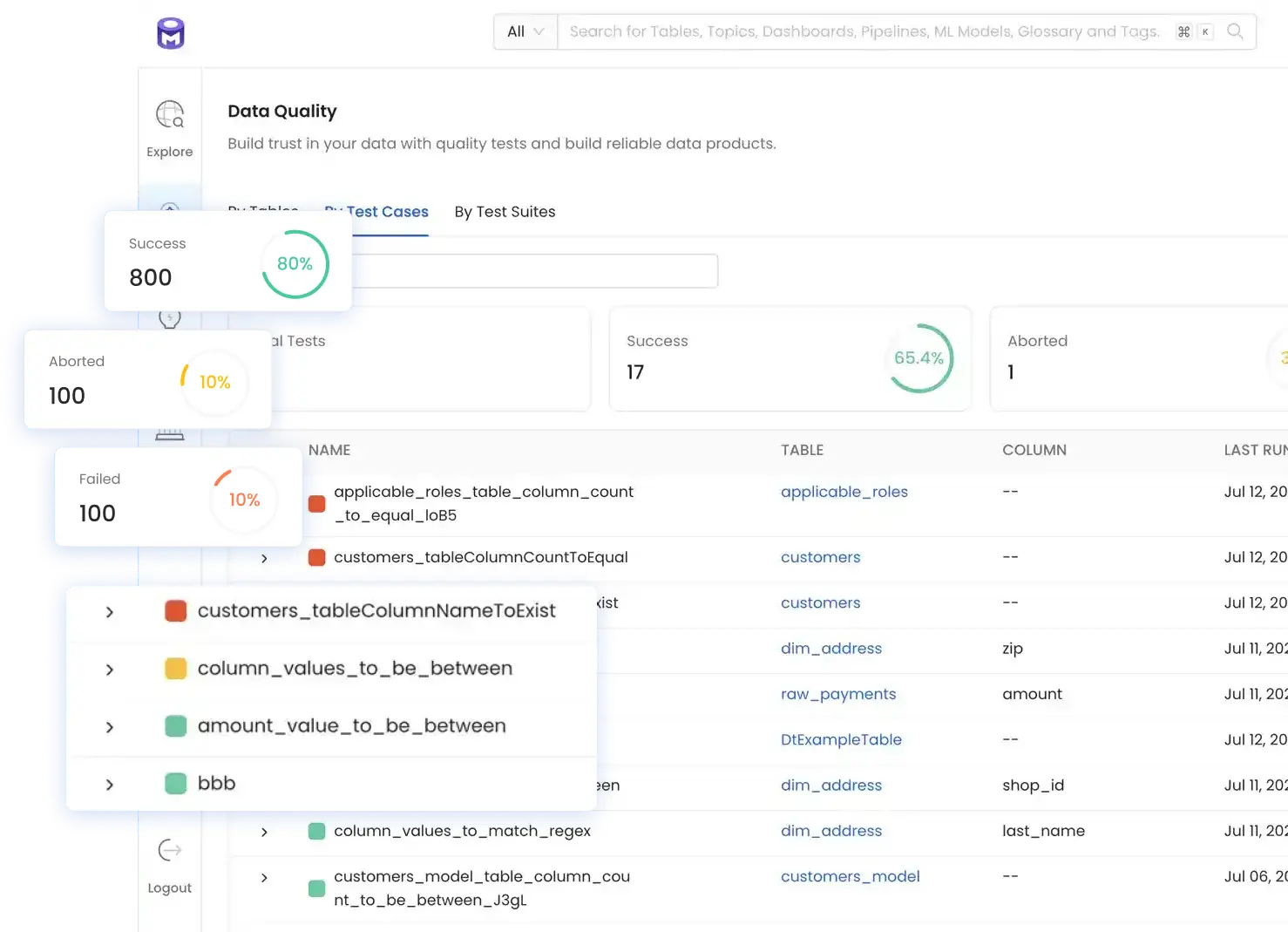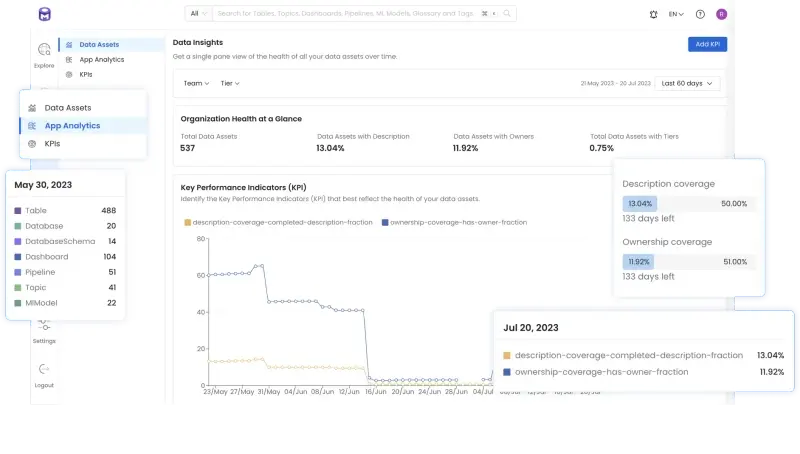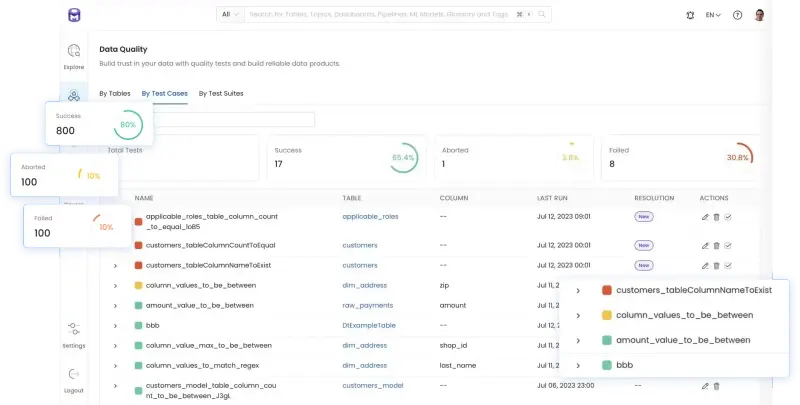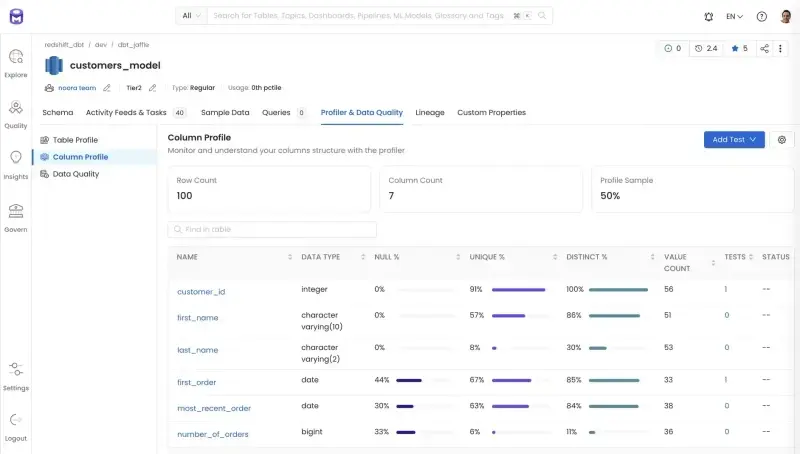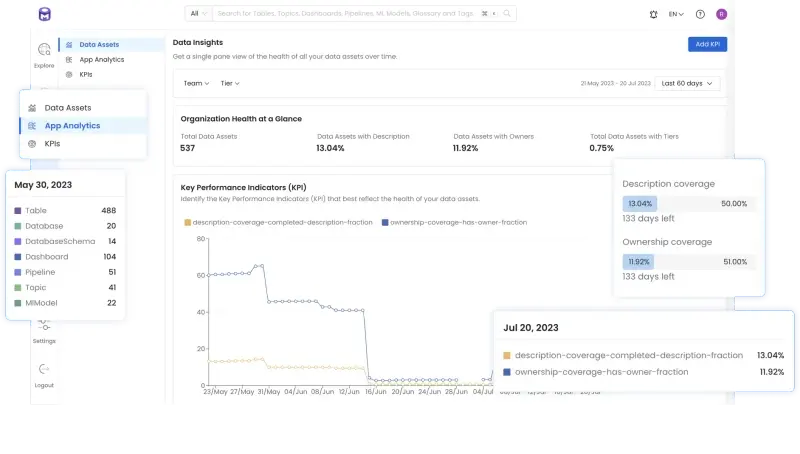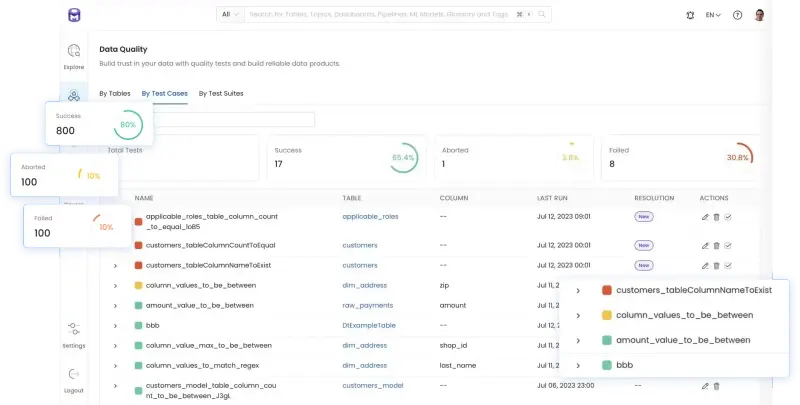 Data Collaboration for Teams without the Chaos
Data is a team game. But collaboration is broken with distributed teams on different tools, disconnected from each other, and working with fragmented data. No tool is addressing this issue today.
Are you able to work together with other teams and share learnings?

Do you know who to talk to when you have a question?

Is your organizational knowledge lost in email, Slack, and other tools?
Organize your metadata and connect your teams with a powerful collaboration interface! Collaborate seamlessly, share learnings, and work together without the hassle.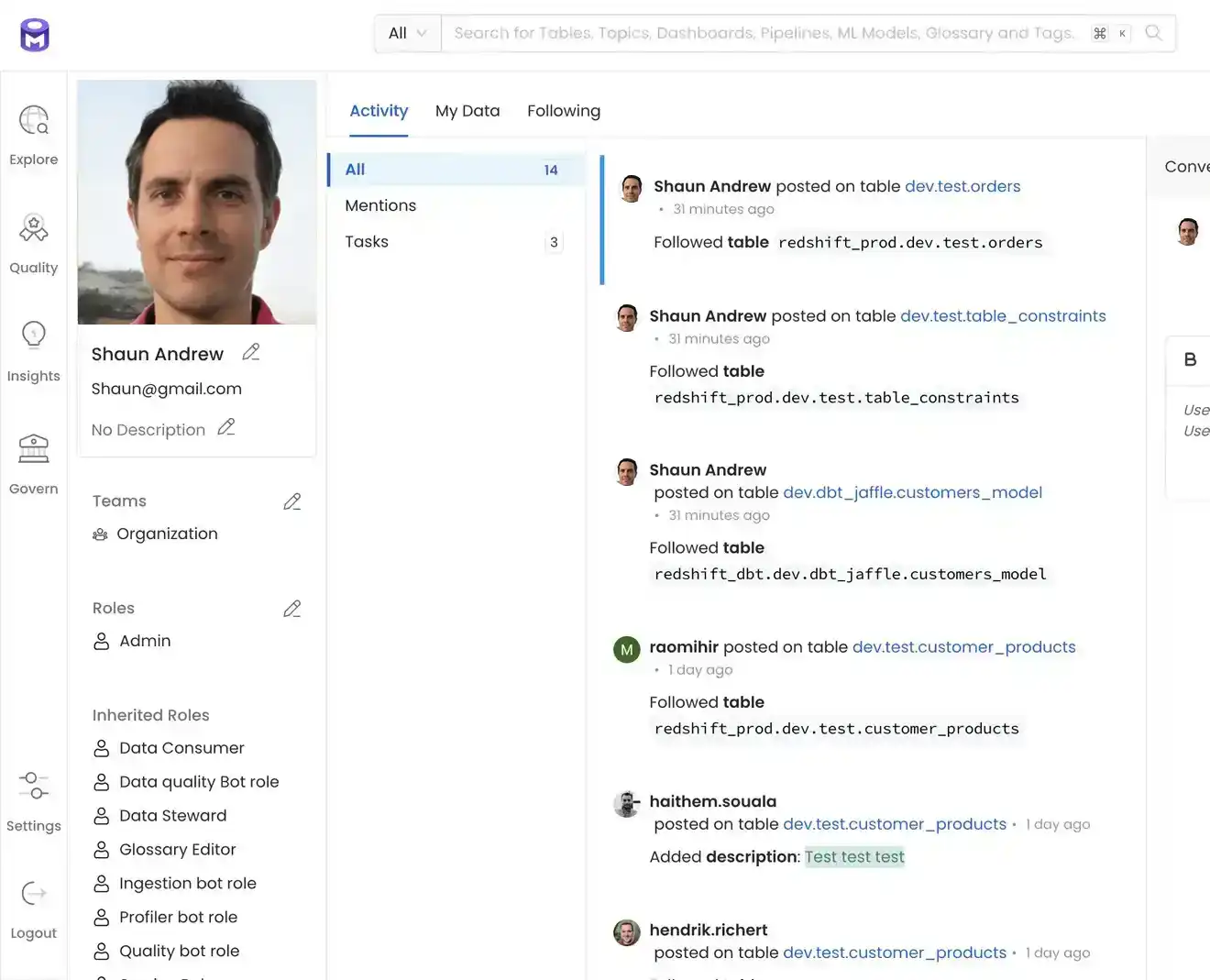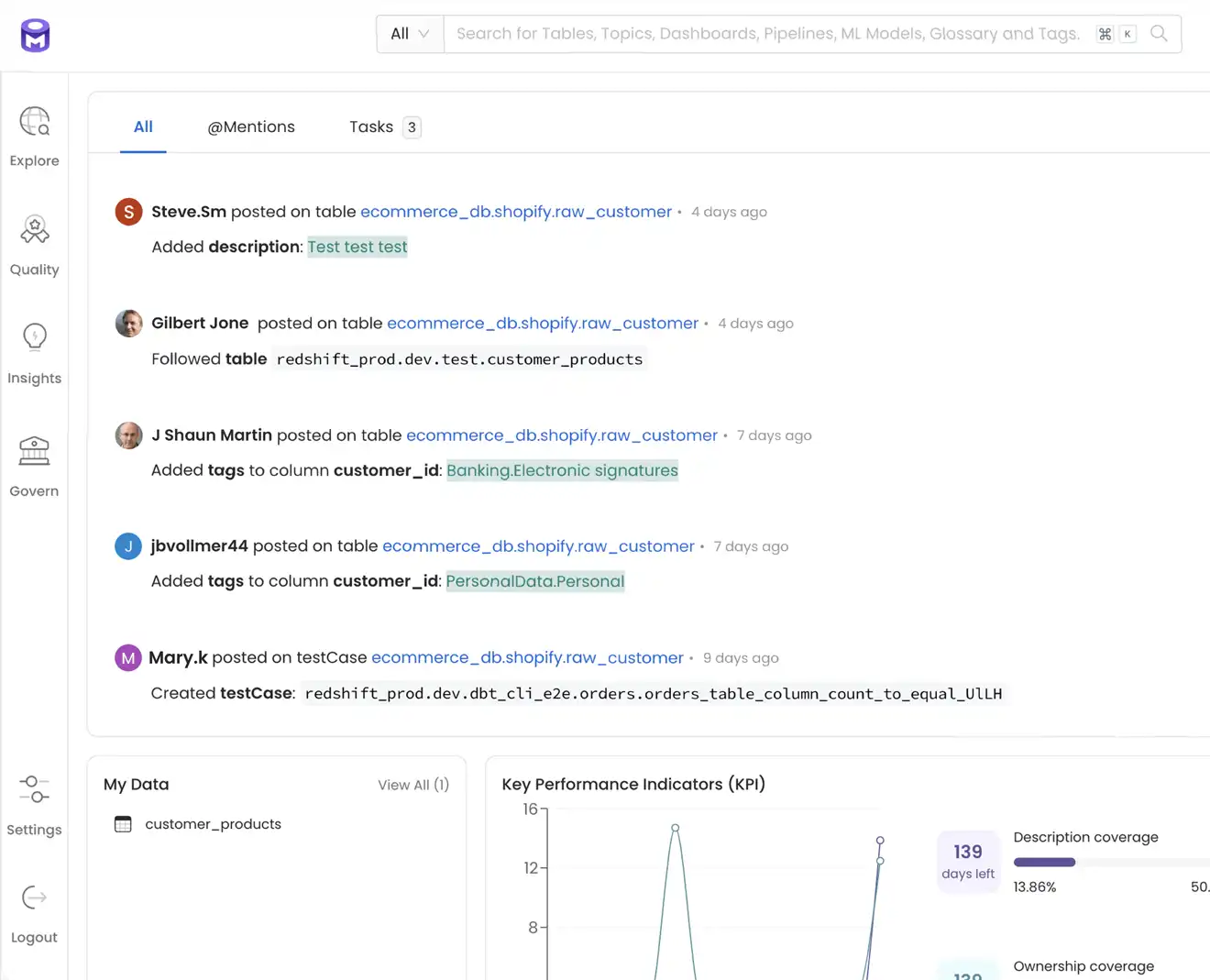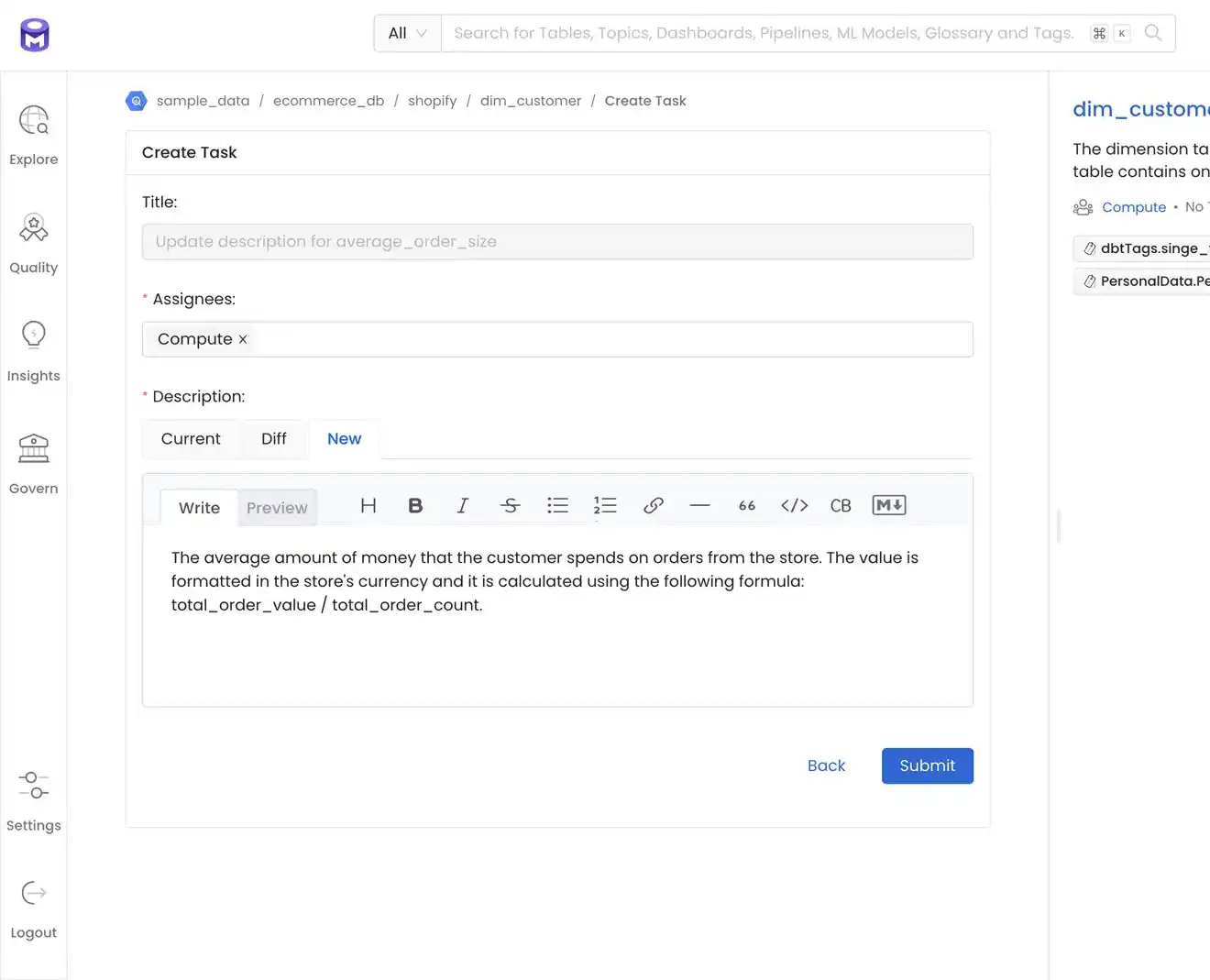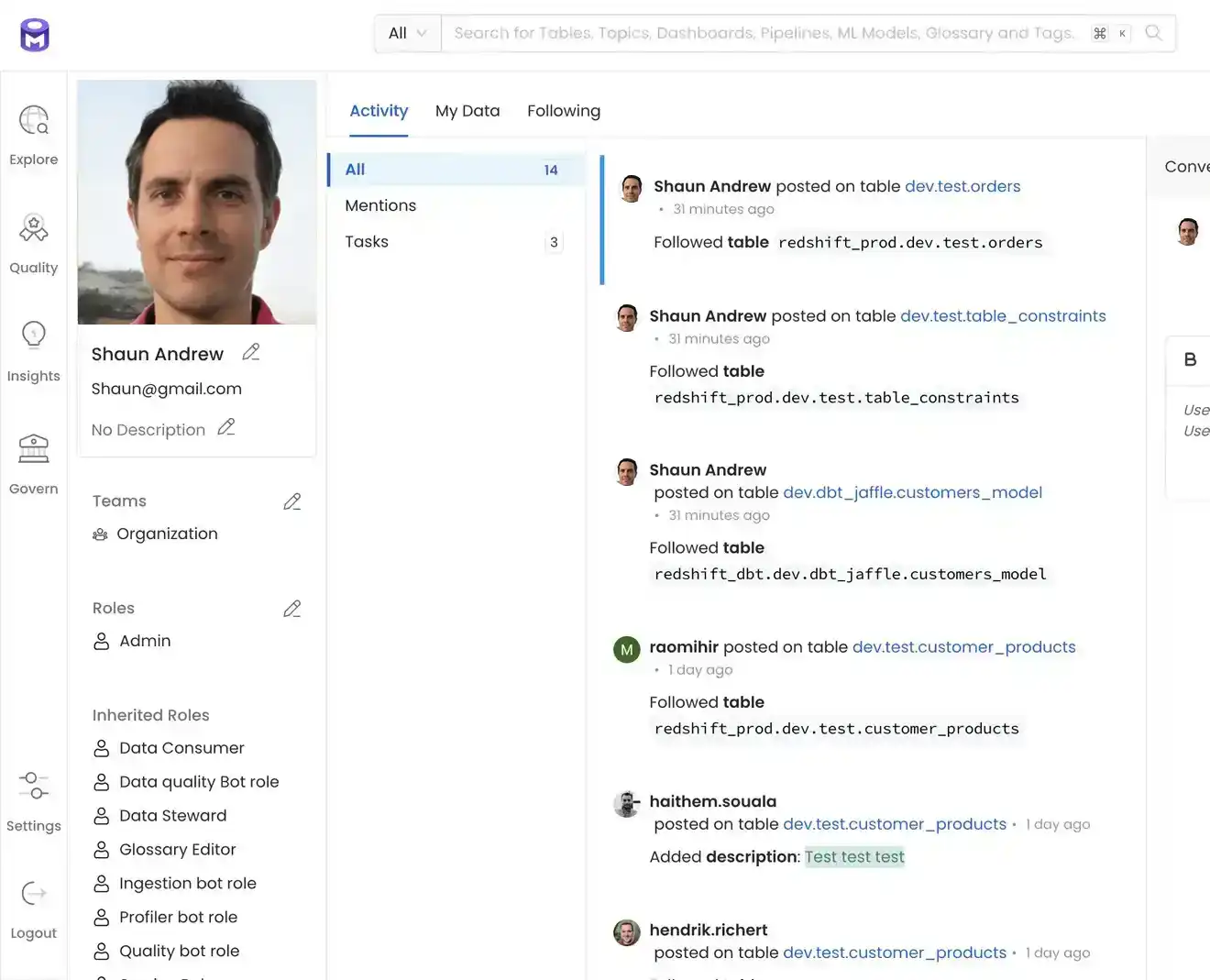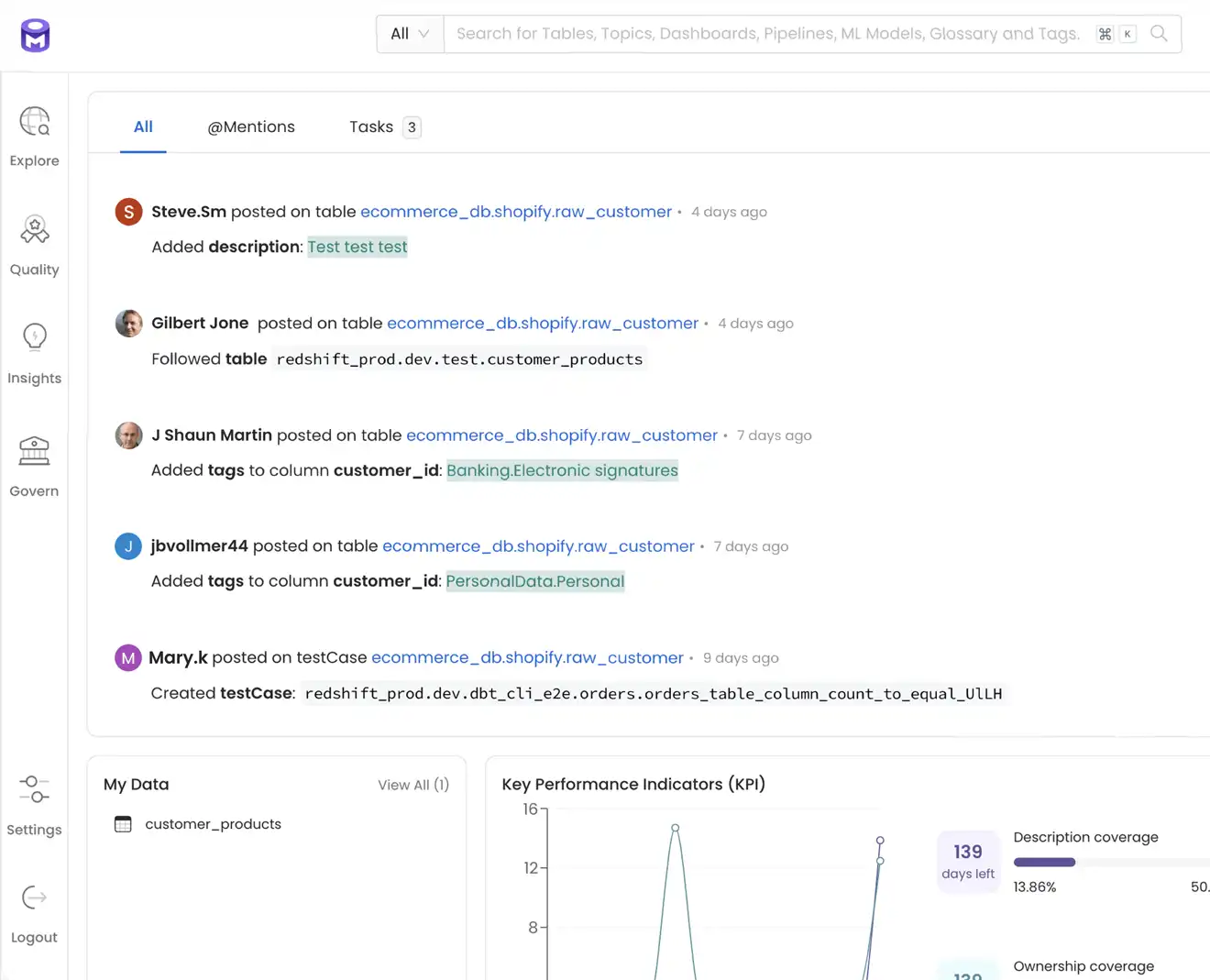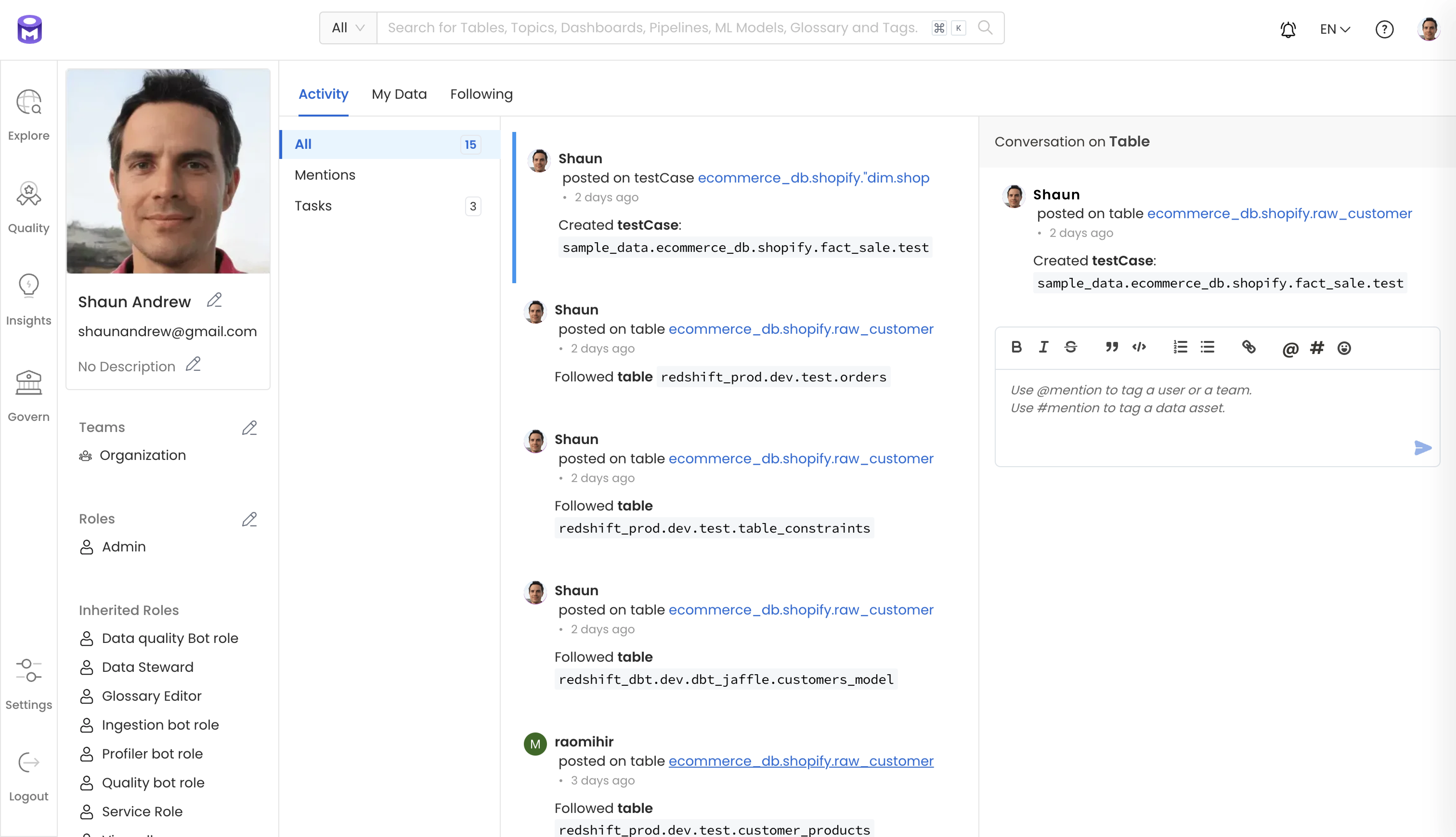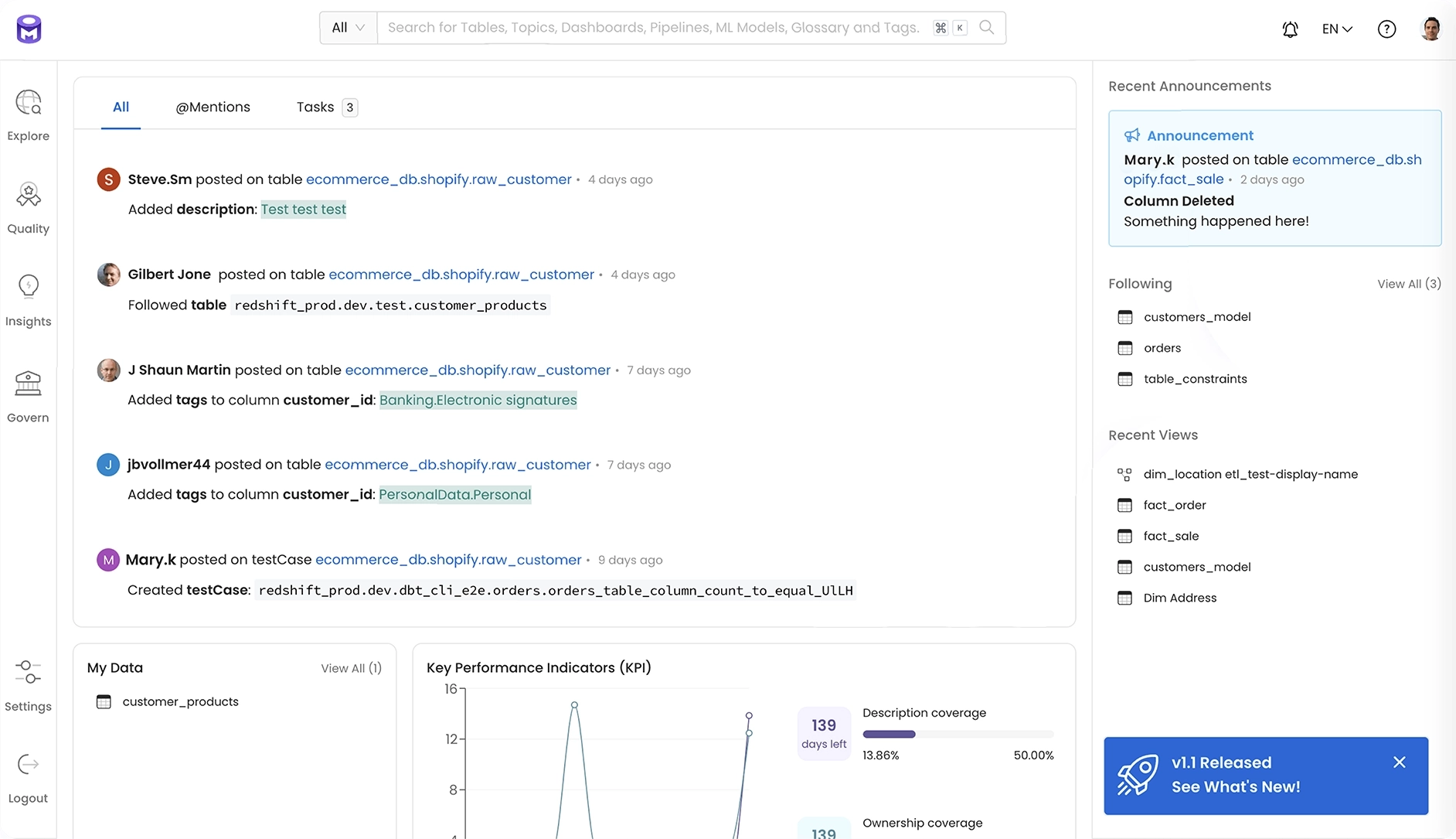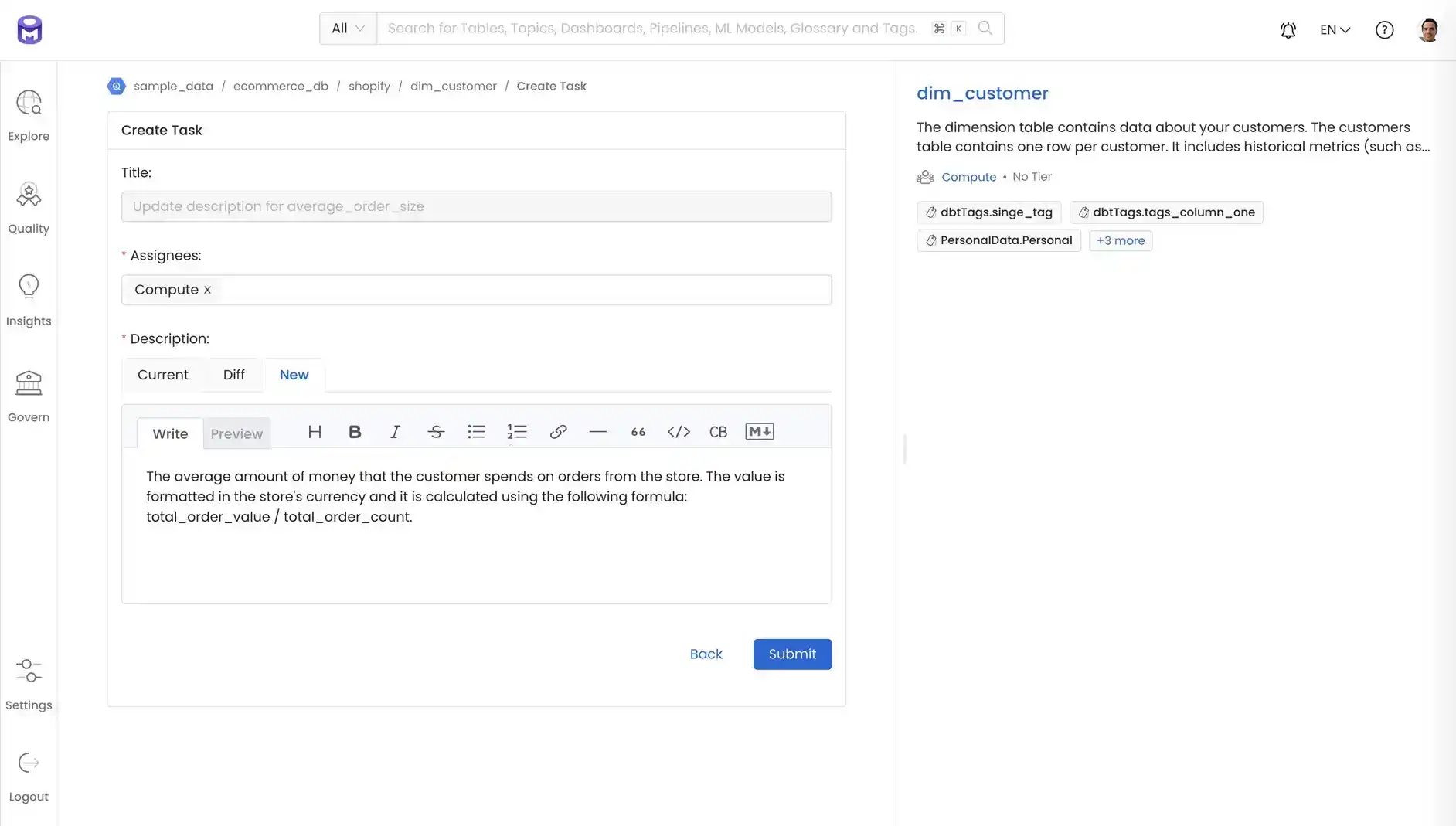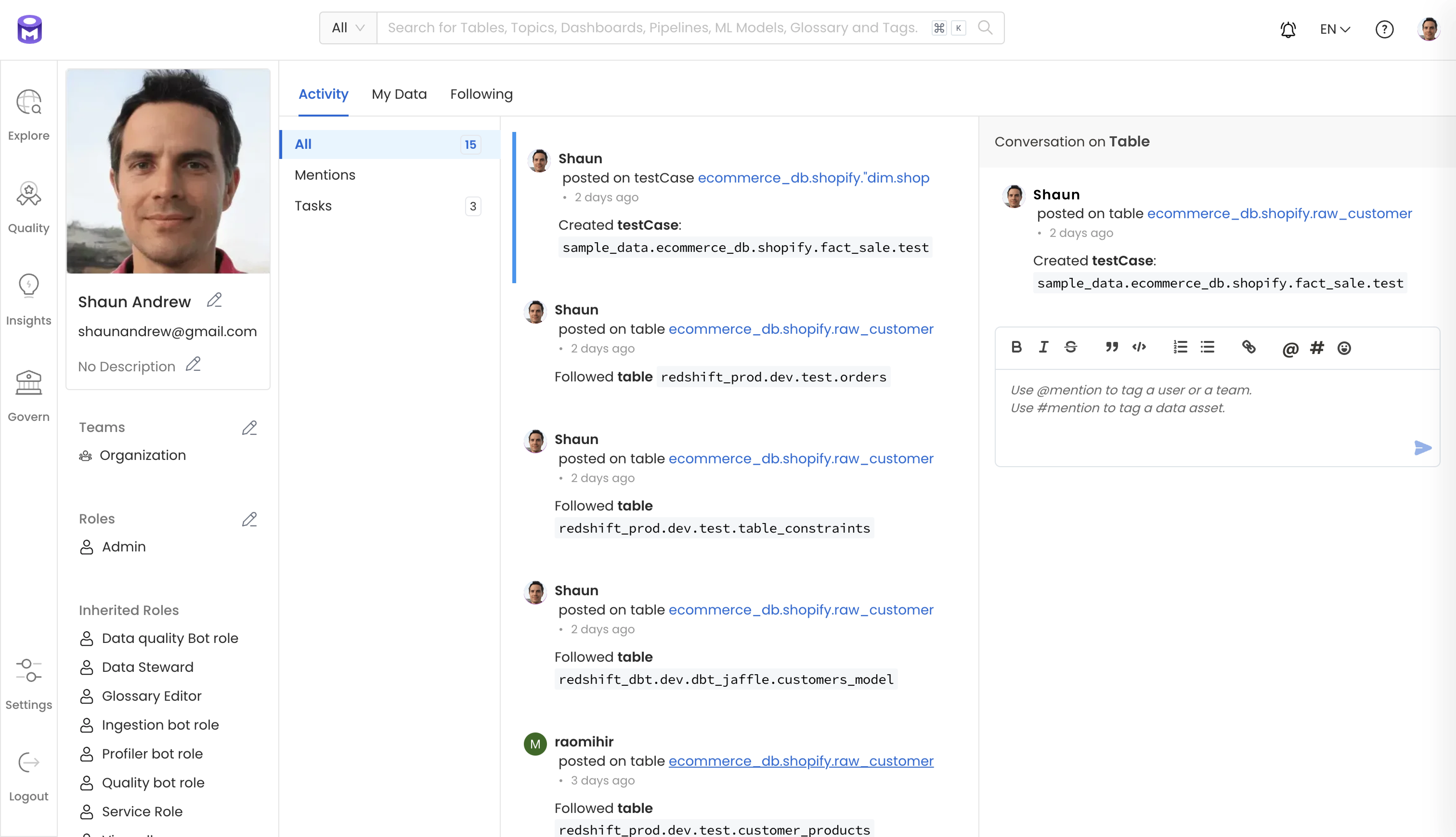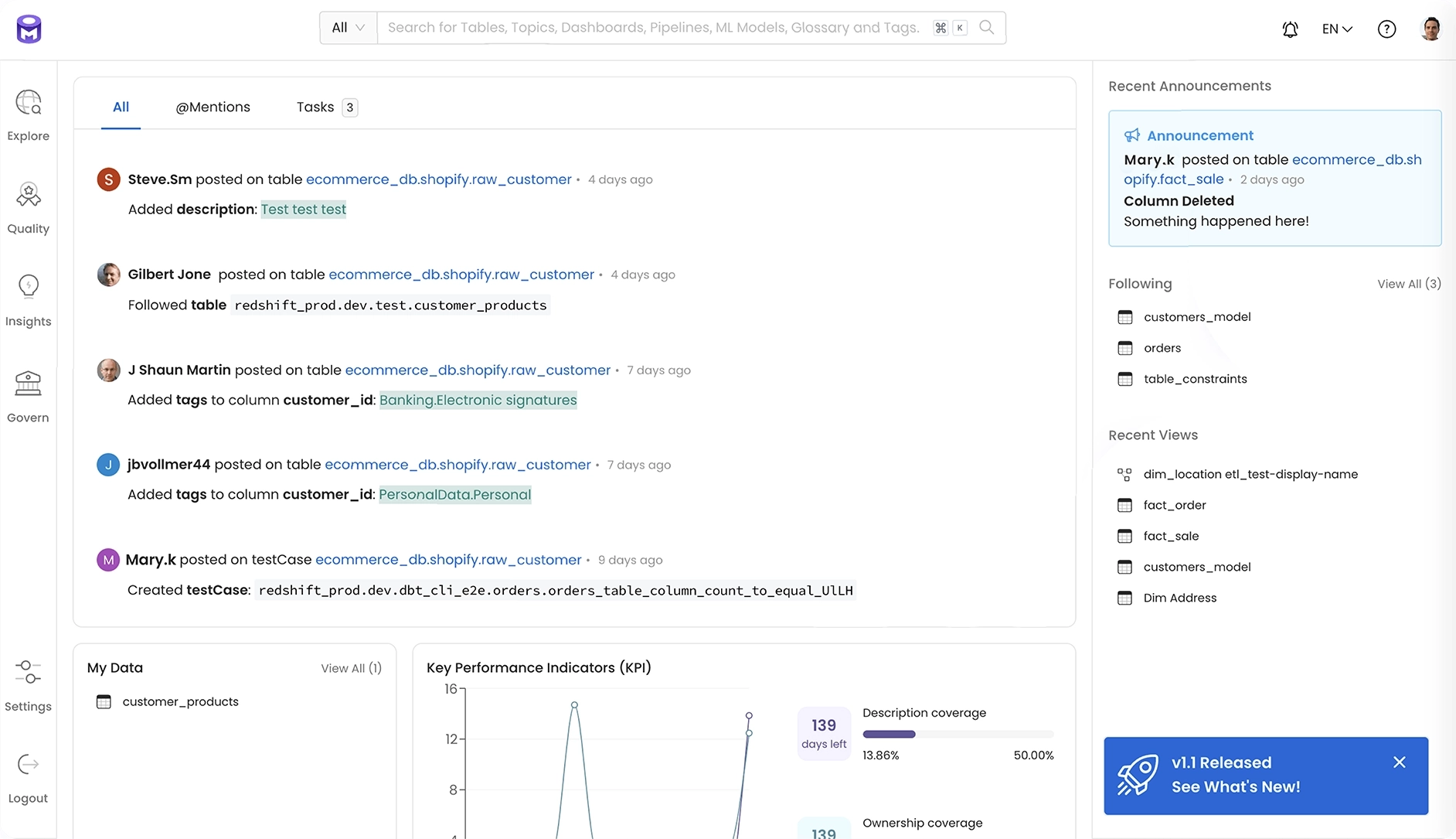 We Take Care of your Data, so you can Focus on What you do Best
Existing data catalog solutions are passive, and do not address current technology and business challenges. Separate disconnected tools for discovery, quality, and observability further make your existing data problems worse, rather than solving them. Adopt modern forward-thinking approaches and technologies to prepare your business for future challenges.
01
Reliable, dependable data at your fingertips
We believe that discovery, quality checks and observability of data should be managed on a single platform, that is - Collate's centralized metadata platform.
02
All your data knowledge in one place, not all over the place
Centralized metadata collects context about all your siloed data in a single place as a metadata graph to give you a holistic picture of data in a single place.
03
Trust your data
Use the automation powered by metadata to drive ownership of data, improve visibility, collaborate and crowd-source rich information. Eliminate errors and ensure quality to empower everyone in your organization with reliable data.
04
The power of open source & open metadata standards
Metadata is the most important data in an organization that is trapped in proprietary formats siloed across many tools. Avoid vendor lock-in and unlock a whole new universe of knowledge to assure current, consistent, and rich information for everyone.
05
Build a better, stronger data culture
Designed for proactive data teams, with streamlined workflows and automation to achieve scale, unlock innovation, and build a strong data culture of continuous improvement.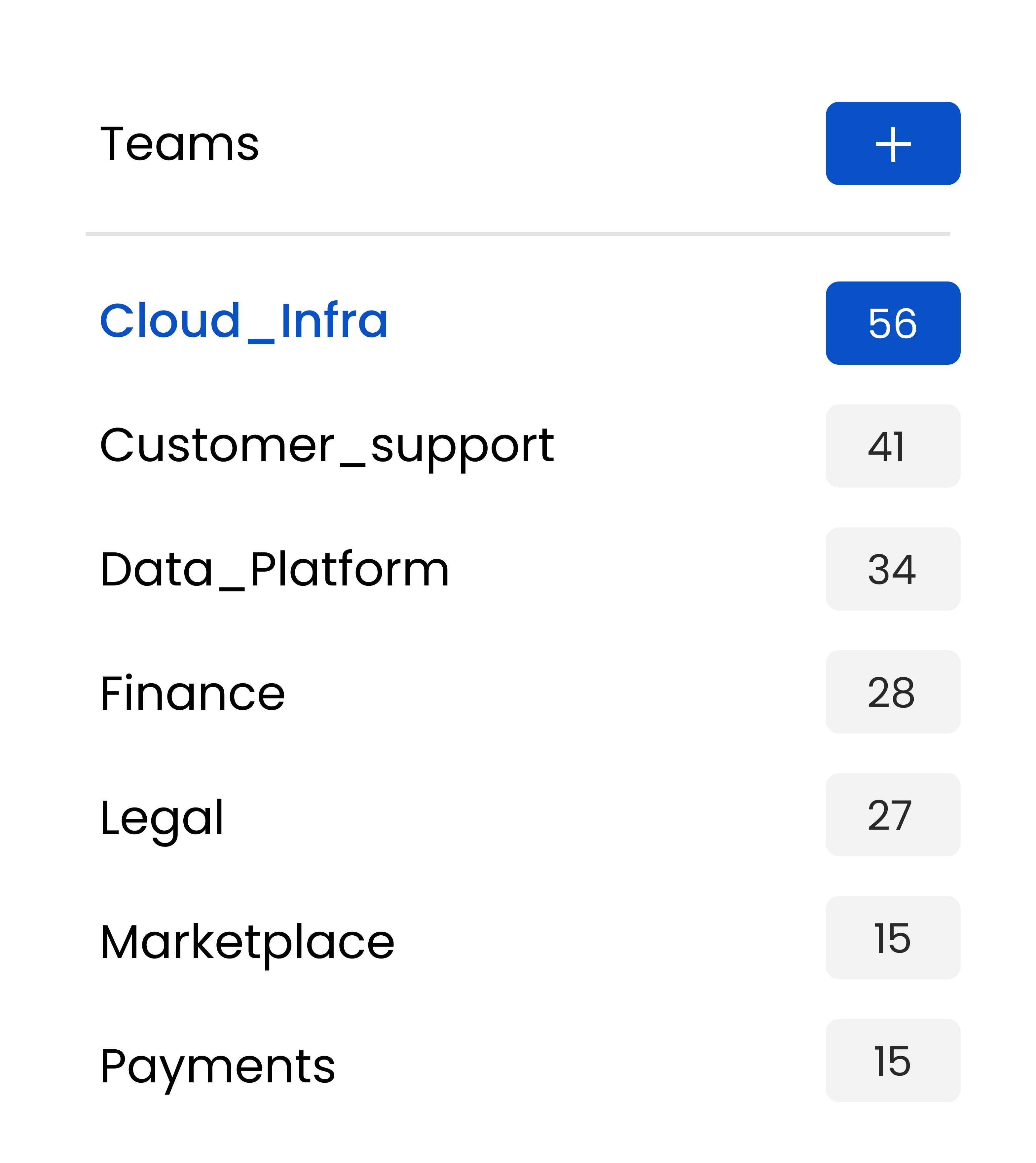 Integrations
A Single Platform to Connect All your Metadata
Are you ready to change how data works for you?
Let's Get Started, Now!
Poorly managed, low-quality data not only impacts your profits, but also your reputation. Well-managed data can enhance productivity, improve customer trust, and bring positive changes to your business bottom line.
How? Speak to our experts, today!